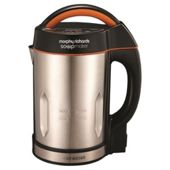 I recently had a chat with a friend and she was raving about her soup maker! She is doing Slimming World and raving abour Syn free soups... another friend piped up - yeah arent they great... I use this... and throw that... into the machine and off it goes.
I often make soup on the hob, so wondered whether it reall was worth investing in a machine... Well, let me tell you YES it is. Where on the hob, you have to worry about it sticking to the pan, over boiling. reducing to a simmer, then wazzing up boiling hot liquid with the risk to melting your skin off with flying splatter.... a soup maker reduces the risk completely.
Chop, add stock, set the machine, press go!
It really is as simple as chopping the ingredients, making up the stock and choosing, smooth or chunky!
My tips
The only issues i have is that my machine cannot be submersed in water and you sort of have to clean under a tap without dipping the plug socket end under water. Ideally, I'd like to dishwash the container and the blades.
Some of the recipes I have tried end up with more liquid and ingredients than the machine can cope with and it refuses to switch on. This is easy to get over as I just calculate the liquid in the recipe and scale down - hey presto !
Saying all that - I love my soup maked and it was probably the cheapest on the market as a big investment for a gadget to sit in the cupboard would be frowned upon by the other half (IYKWIM),