Well, today is my birthday and it should be a good one. Family time this morning and then lunch out with more family, then back to eat more chocolate!
Let is snow... pleeease
After the disappointment of going to bed with the outside world getting whiter and whiter with snow falling to waking up this morning to a cold damp day my killer heels are coming out. These gorgeous T-bar wedged heels are going to kill me one day but until then I will insist on stepping out for special occassions with them.
Pearls
I have had a big thing this year for pearls, they just are so elegant and a classic statement. Whether it they are added to a sparkly top or this plain draped back green one, I cant think when I wouldnt wear pearls... I am very tempted to take my Tesco Clubcard Vouchers to the high street to grab a bargain quality set (with matching bracelet of course - Meanwhile these will do.

Drape back top NOW £12.00 at BooHoo
Distressed skinny jeans from Top Shop £42.00
Lipsy Open Toe Heels NOW £39.00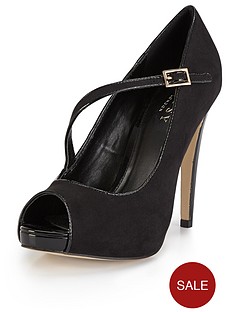 Cultured pearls (on my wanna-have list) £165 at Beaverbrooks
Cultured pearls bracelet £95.00 also at Beaverbrooks
Moximo Pewter Handbad £130.00